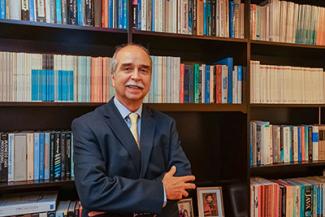 Carlos Ricardo Langoni holds a Ph.D. in Industrial Engineering from Texas A&M University.  He also holds a Master of Science degree in Industrial Engineering and a Bachelor of Science in Electrical Engineering; both earned at the Pontifícia Universidade Católica (PUC) do Rio de Janeiro, Brazil.
His career with Florida State University began in 1987 as adjunct faculty of the Florida State University campus in the Republic of Panama.  He was appointed Assistant Professor in 1989 and promoted to Associate Professor in 1994. From 1997 until 2000 Dr. Langoni served as Assistant Director for Academic Affairs. In 2000 he was appointed Vice-rector, position he held until August 2003 when he became Interim Rector of FSU – Panama. On June 14, 2004, he was appointed as Rector of the FSU campus in the Republic of Panama, with the responsibilities for leading the institution in the fulfillment of its mission of providing excellence in higher education in Latin America and the Caribbean. Since then FSU Panama has become a truly international campus with students from more than 30 different countries.
During his professional career, Dr. Langoni has been associated with EMBRATEL (Empresa Brasileira de Telecomunicações) where he served as Intern Engineer; PUC Rio de Janeiro, where he served as Teaching Assistant and Lecturer from 1978 to 1981, and the Texas Transportation Institute at Texas A&M University, where he served as Research Assistant from 1985 to 1987. During his academic career Dr. Langoni has taught courses and conducted research in the areas of Operations Research, Computer Science and Mathematics.
Dr. Langoni has served as consultant to the World Bank. His research interests are in the areas of Algorithm Analysis, Mathematical Modelling and Computational Complexity. He has presented papers on international conferences on Scheduling problems, algorithms and their complexity. He is a regular member of the Association for Computing Machinery. He has represented FSU-Republic of Panama on several committees, workshops, seminars and discussion groups on the topics of higher education and the development of an accreditation system in the country.