Director - MS in Int Affairs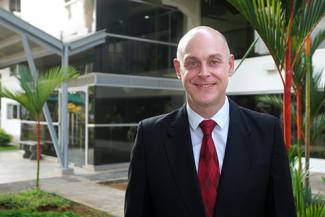 Contact Information
Department
Permanent Faculty
Carlos Guevara Mann is Associate Professor of Political Science and Director of FSU Panama's graduate program in International Affairs, offering a Master of Science degree. Dr. Guevara Mann received his Ph.D. in Government and International Studies at the University of Notre Dame, Indiana. He has a Master of Arts degree in International Affairs from Ohio University in Athens, Ohio. Earlier, he majored in Finance at Universidad Católica Santa María La Antigua, Panama.
Dr. Guevara Mann specializes in International Relations, especially U.S.-Latin American Relations; Comparative Politics, with a focus on authoritarian and democratic regimes; and political history, with a focus on Latin America. He is the author of Panamanian Militarism: A Historical Interpretation (Ohio University Press, 1996) and Political Careers, Corruption, and Impunity: Panama's Assembly, 1984-2009 (University of Notre Dame Press, 2011), as well as several journal articles on his topics of expertise and nearly 1,300 newspaper editorials. Dr. Guevara Mann is a well-known political commentator in Panama and has served as editorialist at La Prensa since 2004.
Prior to his academic career, Carlos Guevara Mann obtained significant experience in the private and public sectors. In the private sector he worked for several years in banking. In the public sector, he was Director-General for Bilateral Foreign Policy at Panama's Ministry of Foreign Affairs and National Officer (NO-D) at the Regional Office for Latin America and the Caribbean of the United Nations World Food Programme (WFP). He was regular faculty at the University of Nevada, Reno and Universidad del Norte, Barranquilla, Colombia. As visiting or adjunct faculty he has taught at universities in Italy, Panama, Spain, and the United States.