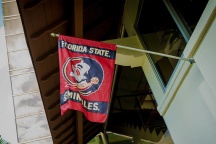 Florida State University has been in Panama since 1957 and is the second oldest university in the country. Its campus is located in the City of Knowledge, a unique environment of academic and research institutions located between the Panama Canal and the Camino de Cruces National Park – a rainforest of incredible beauty and one of the most biologically diverse on the planet.
FSU-Panama is a branch campus of Florida State University and its academic program is accredited by the Southern Association of Colleges and Schools (SACS).  The University is also highly regarded in the local educational community where it is a member of the National Council of Colleges and its programs are recognized by the Ministry of Education.
Florida State University offers 88 bachelor's degree majors that can be started in Panama and completed at the main campus in Tallahassee. Florida State University – Panama, affiliated with Panama's City of Knowledge, awards Associate's degrees and Bachelor's degrees in the areas of Computer Science, International Affairs, Latin American and Caribbean Studies and Interdisciplinary Program in Social Sciences, and a Master's Degree Program in International Affairs.
Attending FSU-Panama and completing at our main campus in Tallahassee allows Latin-American students to receive a bachelor's degree from one of the best universities in the United States at a fraction of the cost typically associated with the pursuit of a U.S. college education.
FSU-Panama's academic programs start each year in January, May, or August. Both liberal studies requirements and specialized courses provide a balanced curriculum for all students as well as internships and research opportunities.
 Know more about FSU – Republic of Panama Campus
title-inside title-centered
2